2022 Olympia Pro Wheelchair Results

The Olympia 2022 Pro Wheelchair winner is…
Harold Kelley has won the Wheelchair Olympia for the fifth consecutive year. On Saturday afternoon, the best Wheelchair bodybuilders in the world took the stage for competition and it was Kelley who reigned supreme once again.
In March, Gabriele Andriulli defeated Harold Kelly at the Arnold Classic. Andriulli finished as the runner-up and has solidified his spot in the division. Antoni Khadraoui finished third during the event.
Typically, the Pro Wheelchair division is judged from the waist up. But the nature of the injury is detailed before each routine to bring context to what they can and cannot train as effectively. This plays into the judges decisions to some degree.
This weekend held the Olympia 2021 Pro Wheelchair competition, showcasing the best wheelchair bodybuilders in the world. All fighting for the title of number one. The results have finally been announced. You can check them out below:
2022 Olympia Pro Wheelchair Results
First Place – Harold Kelley
Second Place – Gabriele Andriulli
Third Place – Antoni Khadraoui
Fourth Place – Pierre Kavalin
Firth Place – Adelfo Cerame Jr.
Sixth Place – Woody Belfort
Seventh Place – Tyler Brey
Eighth Place – Tory Jones
Ninth Place – Chad McCrary
Tenth Place – Bradley Betts
2022 Official Olympia Pro Wheelchair Score Card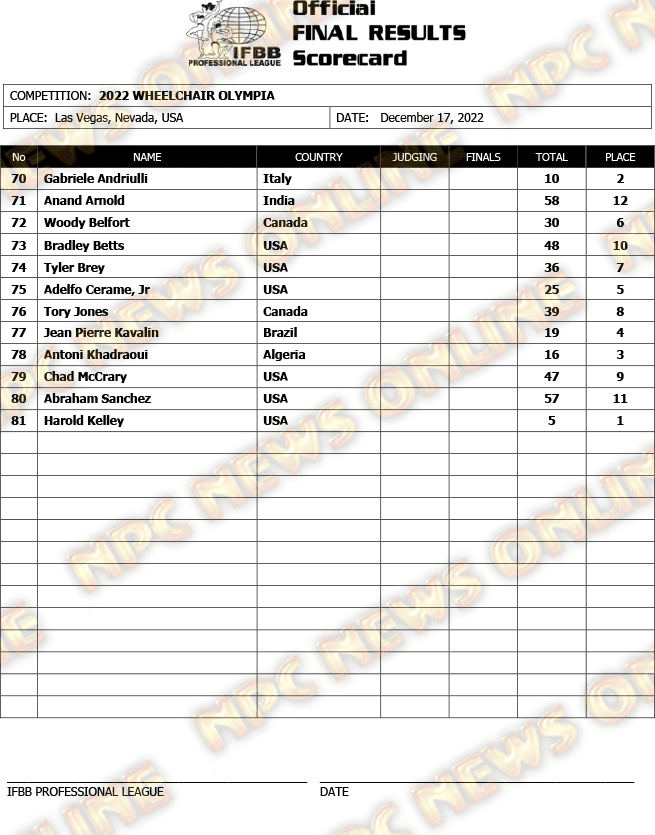 Previous Olympia Pro Wheelchair Winners
2021: Harold Kelley
2020: Harold Kelley
2019: Harold Kelley
2018: Harold Kelley