2022 World's Strongest Man: Day Two Results & Recap

2022 World's Strongest Man results are in for Day 2 with complete breakdown of qualifiers.
The 2022 World's Strongest Man competition is underway. The scene is set in Sacramento where 30 of the world's best strongmen will compete from May 24-29 to see who will be crowned this year's champion.
The qualifiers began on Tuesday and will run through Thursday. There are a total of six events that will be spread out over all three days. The competitors will have a chance to rest on Friday before the finals begin on Saturday. The final day of the event will take place on Sunday.
Today marked the second day of the competition. All groups competed in the car walk and log lift. Below, you can find the results as they continue to come in from Sacramento!
2022 World's Strongest Man: Day Two Events
Car Walk – All Groups
Log Lift – All Groups
The second day of action is completed in Sacramento. Checkout the full results and current standings from the World's Strongest Man competition.
2022 World's Strongest Man Leaderboard
Rank
Name
Points
Group 1
1
Tom Stoltman
24
2
Kevin Faires
18
3
Gabriel Rheaume
16
4
Aivars Smaukstelis
13
5
Andy Black
7
6
Manuel Angulo
3
Group 2
1
Mitchell Hooper
22.5
2
Bobby Thompson
17
3
Brian Shaw
13.5
4
Gabriel Pena
11
5
Konstantine Janashia
10
6
Mark Felix
9
Group 3
1
Oleksii Novikov
21.5
2
Adam Bishop
16
3
Trey Mitchell
15.5
4
Rob Kearney
14
5
Grzegorz Szymański
9
6
Mika Torro
8
Group 4
1
Martins Licis
21.5
2
Maxime Boudreault
17
3
Pavlo Kordiyaka
16.5
4
Gavin Bilton
15
5
Shane Flowers
6
6
Nedzmin Ambeskovic
6
Group 5
1
Luke Stoltman
23
2
Eythor Ingolfsson Melsted
16
3
Jean-Stephen Corabouef
15
4
Kelvin De Ruiter
10.5
5
Evan Singleton
9.5
6
Kim Ujarak
9
2022 World's Strongest Man: Day Two Qualifier Results
The second day of qualifiers featured two events — the car walk and log lift. This is the second day of three qualifiers where competitors will earn points in hopes of making it through to the finals over the weekend.
Before the second day of competition began, Evan Singleton announced that he will be returning to action. He went into anaphylactic shock prior to the start of day one and was unable to breathe. The reaction has subsided and Singleton will return to the field.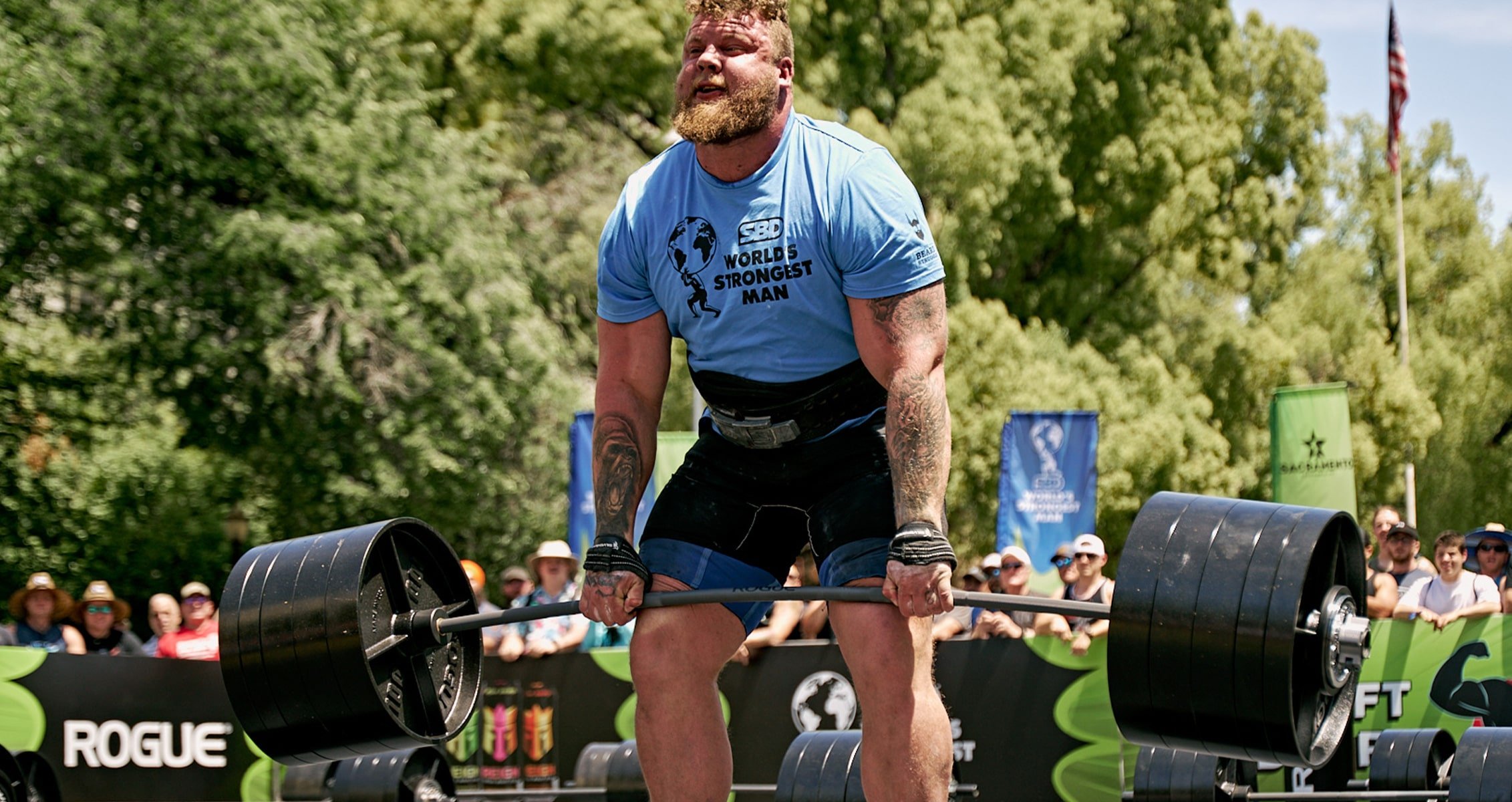 Car Walk
The car all led off day two in Sacramento. Competitors were asked to lift a hollowed out car and walk it down a 25-meter course. This is an event that tests speed and strength together. All parts of the body are engaged while the car is in the air because strongmen must keep it balanced while making sure the tires do not touch the ground.
Group 1
Tom Stoltman – 0:14.65s
Gabriel Rheaume – 0:16.44s
Kevin Faires – 0:19.32s
Aivars Smaukstelis – 0:19.91s
Andy Black – 0:32.71s
Manuel Angulo – 1:00.00s
Group 2
Mitchell Hooper – 0:11.64s
Mark Felix – 0:13.96s
Bobby Thompson – 0:16.05s
Konstantine Janashia – 0:18.16s
Brian Shaw – 0:19.97s
Gabriel Pena – 18.90m
Group 3
Rob Kearney – 0:11.63s
Grzegorz Szymański – 0:14.26s
Oleksii Novikov – 0:15.23s
Trey Mitchell – 0:19.24s
Adam Bishop – 0:23.38s
Mika Torro – 9.50m
Group 4
Pavlo Kordiyaka – 0:12.92s
Martins Licis – 0:18.93s
Gavin Bilton – 0:23.67s
Maxime Boudreault – 0:49.28s
Nedzmin Ambeskovic – 13.60m
Shane Flowers – WD
Group 5
Evan Singleton – 0:09.86s
Luke Stoltman – 0:16.65s
Eythor Ingolfsson Melsted – 0:29.07s
Jean-Stephen Coraboeuf – 0:41.34s
Kelvin De Ruiter – 1:00.00s
Kim Ujarak – 11.40m
Log Lift
This is an event that has developed over time. Athletes used to focus on lifting the heaviest amount of weight possible. Now, competitors are given a time slot and must lift a log off the ground and over their head as many times as possible.
Group 1
Tom Stoltman – 8 reps
Kevin Faires – 7 reps
Gabriel Rheaume – 6 reps
Aivars Smaukstelis – 4 reps
Andy Black – 0 reps
Manuel Angulo – 0 reps
Group 2
Bobby Thompson – 8 reps
Mitchell Hooper – 7 reps
Brian Shaw – 7 reps
Konstantine Janashia – 5 reps
Gabriel Pena – 1 rep
Mark Felix – 0 reps
Group 3
Oleksii Novikov – 9 reps
Trey Mitchell – 9 reps
Adam Bishop – 7 reps
Rob Kearney – 6 reps
Grzegorz Szymański – 3 reps
Mika Torro – 2 reps
Group 4
Maxime Boudreault – 10 reps
Martins Licis – 9 reps
Pavlo Kordiyaka – 9 reps
Gavin Bilton – 7 reps
Nedzmin Ambeskovic – 2 reps
Shane Flowers – WD
Group 5
Luke Stoltman – 10 reps
Eythor Ingolfsson Melsted – 8 reps
Jean-Stephen Coraboeuf – 7 reps
Kim Ujarak – 6 reps
Evan Singleton – 1 rep
Kelvin De Ruiter – 1 rep
2022 World's Strongest Man: Event Schedule
Day Three Qualifiers: Thursday
Wrecking Ball Hold
Stone Off
Day One Finals: Saturday
Giant's Medley
Deadlift
Flintstone Barbell
Day Two Finals: Sunday
Bus Pull
Power Stairs
Atlas Stones