Best Dumbbells For Home Training & Convenience (Updated 2022)
These dumbbells are perfect for small spaces and adjustability to maximize your at-home training and performance goals.
When looking to beef up your home gym and find the right equipment for training and for small spaces, the best dumbbells are essential for maximizing all your training needs. Whether that be for isolation exercises or those compound exercises, dumbbells add a convenient way to pack on additional weight to said exercise and really give your muscles a good workout. Small and versatile pieces of workout equipment allow for a variety of exercises and can very easily take your home gym from zero to one hundred, and quickly.
We've put together a list of the Best Dumbbells for 2022 so you can maximize those at-home gains for all your training needs. A good dumbbell can take your workouts to new heights and allow for the best when it comes to strength, convenience, and of course, a physique others will envy.
Best Dumbbells For 2022
---
Best Overall
The best dumbbells overall will be of the highest quality to ensure durability while also being comfortable in size and grip. You want to make sure your dumbbells work for your gains and allow for only the best workouts possible.
papababe Dumbbells
papababe Dumbbells are great workout equipment for those looking to build strength, burn fat, and create a stellar physique that others will envy. Perfect for free weight training, these can be stored easily for optimal convenience. Made from solid cast iron, these ensure durability and longevity and the rubber coating helps prevent damage to floors and other equipment. With a hexagon-shaped head to prevent rolling, the grip is also secure to prevent slipping and injury.
Pros
Great for exercise and seeing results for strength and fat loss
Easy storage for convenience
Solid cast iron and rubber coating ensure durability and protection
Cons
Can be an expensive option
May have a strong scent
Price: $229.99
---
Best Dumbbell Set
While having a pair of dumbbells is great, having a complete set is even better. Although this may be more expensive and take up more space, you will have more variety to your exercises and workouts overall.
papababe Dumbbell Set
papababe Dumbbell Set is the perfect set of dumbbells for comfort and use. The dumbbells themselves are high-quality made of cast iron with a rubber coating for protection. Although a set, it doesn't take up too much space and is perfect for your home gym and at home training. The set includes an A-frame dumbbell rack with a pair of 5-pound, 10-pound, 15-pound, 20-pound, and 25-pound weights making this a great set to help you reach your goals.
Pros
Great dumbbell set for building muscle and seeing results
Dumbbells are quality and durable material
Doesn't take up too much space
Cons
A bit limited on weight with it only ranging from 5-25 pounds.
Price: $254.99
---
Best Adjustable Dumbbells
An adjustable dumbbell is exactly what you need to save space and money when it comes to a dumbbell. What these can do is allow for easy adjusting and basically take more than one dumbbell and condense it into one.
Topeakmart Adjustable Dumbbell Weight Set
Topeakmart Adjustable Dumbbell Weight Set offers a great set of adjustable dumbbells that will save space and money when it comes to your dumbbell needs. Perfect for upper and lower body building exercises, the cement plates and iron bar allow for durability and the utmost quality. Anti-slip grips allow for comfort and safety and the ability to get the best workout possible. Included with this adjustable dumbbell set are four 4.4 lbs. plates, four 3.3 lbs. plates, four 2.8 lbs. plates, 2 bars with grips, and four spinlock collars.
Pros
Adjusting makes this easy to workout
Can add and take off weight for your desired amount
Save money and time with one set of dumbbells
Cons
May be a hassle to have to adjust constantly
May not be enough weight for some
Price: $44.99
---
Best Block Dumbbells
Block dumbbells also allow for easy adjusting and can provide for fairly great grip as well. While these may not be what some are looking for, if you enjoy lifting with block dumbbells, then we have a great set for you.
POWERBLOCK Elite EXP Adjustable Dumbbell
POWERBLOCK Elite EXP Adjustable Dumbbell offers an adjustable range of 5-50 lbs. and replaces 16 pairs of dumbbells with just one. The auto-lock handle feature includes two chrome adder weights so you can even adjust your increments by 2.5 lbs. for just that much more weight. Perfect for saving time, money, and energy, these are a great set of block dumbbells.
Pros
Adjustable from 5-50 lbs.
Replaces 16 pairs with just one dumbbell
Nice feature to add increments of 2.5 lbs. for a little more weight
Cons
Stability between the plates may not be the best
Bit expensive for the overall quality
Price: $345.05
---
Best Hex Dumbbells
A traditional dumbbell with a hex design is perfect for stopping it from rolling and causing damage to floors or other equipment. Typically with a rubber head, this ensures the utmost protection for all your surrounding items.
Sporzon! Rubber Encased Hex Dumbbells
Sporzon! Rubber Encased Hex Dumbbells are widely used in gyms and home gyms since they work for a variety of purposes. Able to work specific muscles or provide for a full body workout, these are great dumbbells. Made from high-quality solid cast iron and encased in rubber, these dumbbells are durable along with a solid metal chrome finish textured handles for the best grip possible. The hexagon-shape rubber encased head offers protection and limits rolling around.
Pros
High-quality material and rubber coating ensure durability and protection
Good feel and texture for workouts
Cons
Grip may be too thick for some
Price: $34.99
---
Best Dumbbell Set For Home Gyms
For those looking to seriously beef up their home gym, a complete set of high quality dumbbells will give you a professional look and feel from the comfort of your own home. While this may be an expensive option, if you can make it happen, it is totally worth it.
American Barbell Series IV Urethane Dumbbells
American Barbell Series IV Urethane Dumbbells are commercial grade and high quality construction at an affordable price. The dumbbell features a solid steel core, a hard chrome plated handle, and top tier urethane head to handle any abuse the weight may endure. Designed for comfort, the larger radius outside and inside edges make this conducive to all exercises. With a complete set of 5-50 lbs., all those home gym needs are right around the corner and absolutely within reach.
Pros
Complete set of dumbbells ranging from 5-50 lbs.
High quality construction and top tier urethane finish for protection
Comfortable and easy to use grip
Cons
Premium priced option
Will take up a lot of space as it is a complete set
Price: $2,395.00
---
Best Dumbbell Rack
Of course, with all these dumbbells, you need a place to store them. Having a sturdy and stable rack will give you the best chance at storing these weights in a great place to take up minimal space.
Marcy 3-Tier Dumbbell Rack
Marcy 3-Tier Dumbbell Rack is exactly what you need to store all of those dumbbells when your not using them for your workout. Made of steel, this heavy duty rack can withstand damage and intensive use over time and a durable powder coat finish offers reinforcement and a great quality coat on top. Compact and great for saving space, this multi-level storage rack is exactly what you need to make that home gym feel a little more complete and organized.
Pros
Heavy duty steel and quality construction
Great for saving space with a compact design
Powder coat finish ensures durability and longevity
Cons
May not hold as many weights as you have or would like it to
Price: $117.84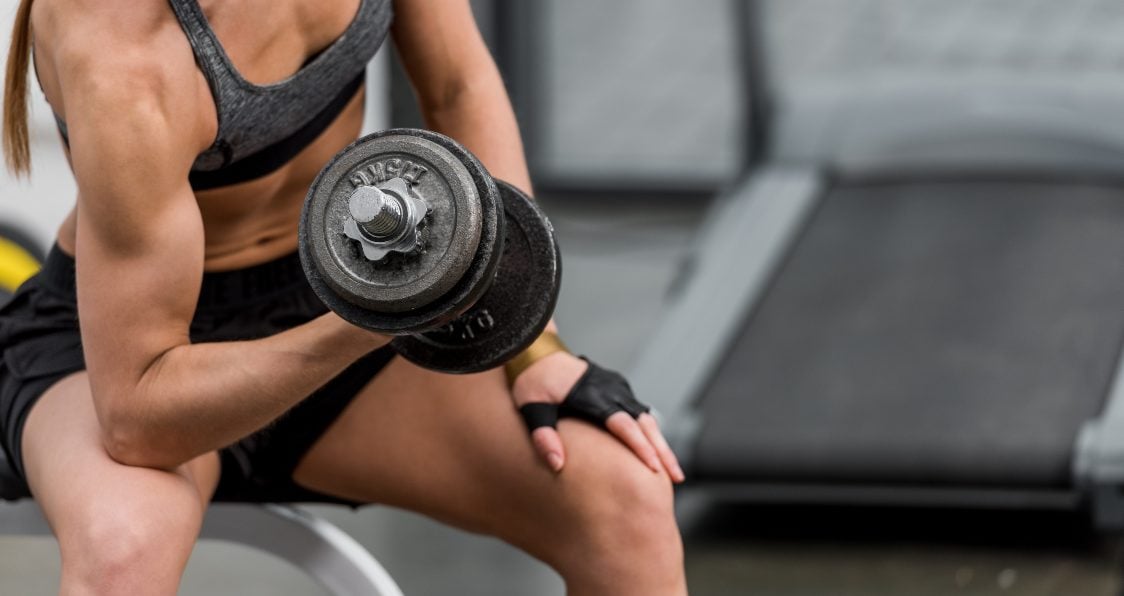 Benefits Of Dumbbells
While we all know how helpful dumbbells can be, the benefits of using them are too hard to ignore. Great for training and for small spaces, dumbbells can be a game changer when it comes to taking your workouts to new heights. Benefits of dumbbells include:
Safe and effective exercise: Using dumbbells ensure a safe and effective exercise by allowing you to maintain proper form without too much weight and if the weight does get too much, you can ditch it safely without putting yourself at risk of injury.
Perfect for muscle growth: Great fitness tools, dumbbells are perfect for increasing muscle growth by creating time under tension and adding nice resistance to your workouts.
Adjust for strength and symmetry: You can work one arm or one leg at a time with dumbbells and this will be perfect when it comes to strength and symmetry for the ideal physique.
Add variety and versatility to workouts: With dumbbells, you get the best of all worlds as they can be used for a variety of workouts and different exercises to challenge you.
Convenient pieces of workout equipment: Easy to use and easy to store, dumbbells are incredibly convenient pieces of workout equipment.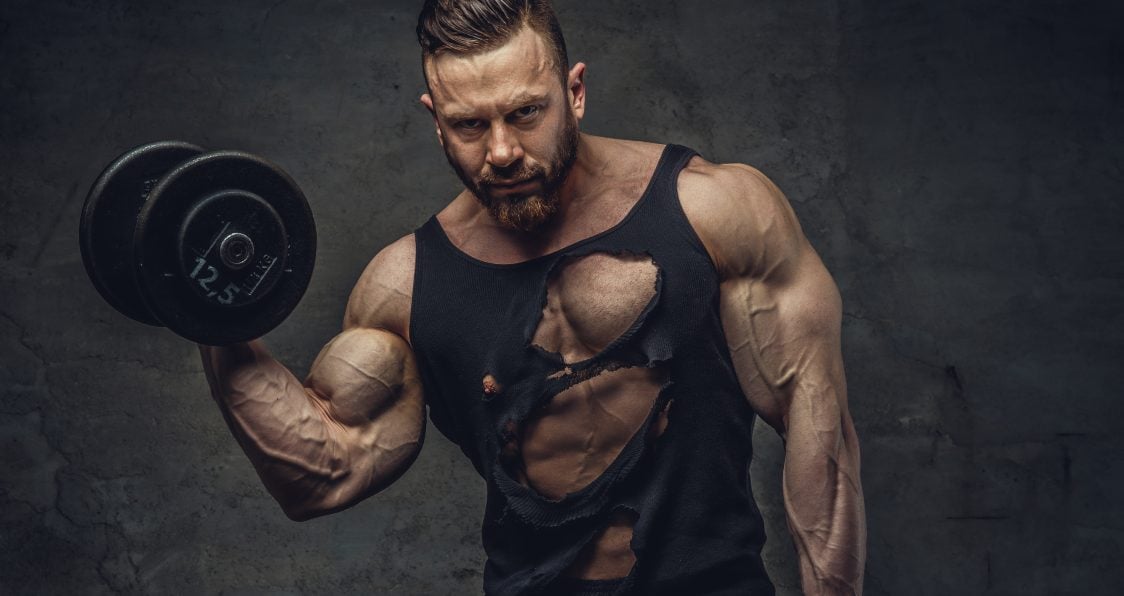 What To Look For
Aside from price, you want to make sure your dumbbell has some features to offer the best workout experience possible.
You want to look for the type of grip because grip and grip strength matter. Having a safe and effective grip can work wonders for all your fitness needs. Especially as you get to heavier dumbbells, the grip you have can help you feel secure and less vulnerable for all your needs.
You want to look for the size of the handle being its diameter. A fatter handle will require different muscles to grip and different muscles worked and you may not fully want that. Just be mindful of how big you want the handle to be.
This is important because this plays into price. If you wanted dumbbells with fixed weight, you are going to need more space, more weights, and more money. Adjustable dumbbells are great for saving space and money and offer an adjustable option to cycle through weights.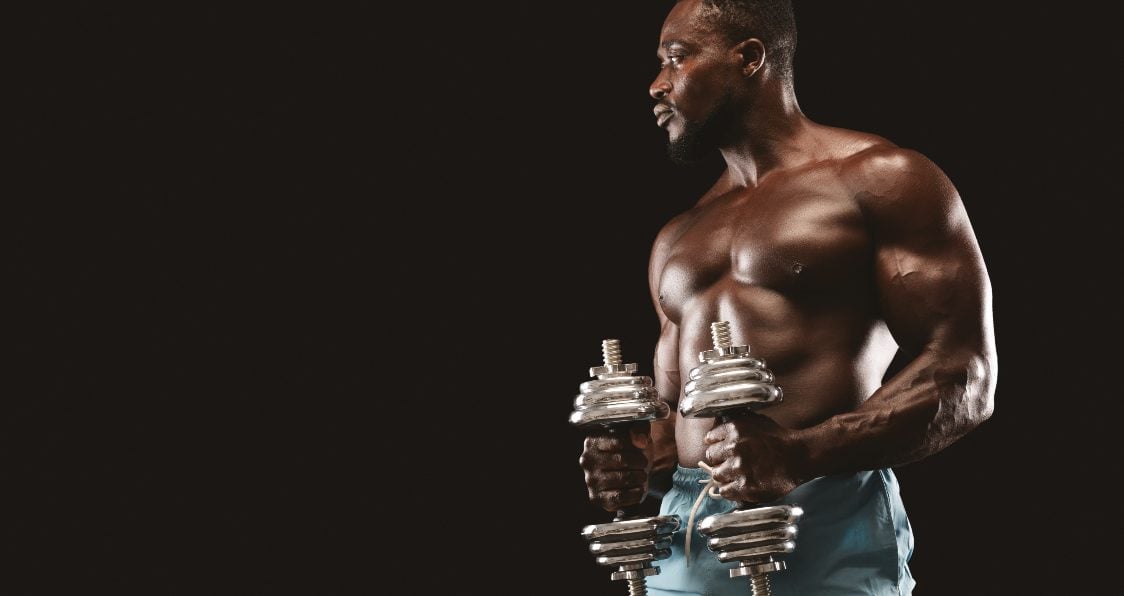 Dumbbells Vs. Kettlebells Vs. Barbells
While all of these are great for working out with, each offers a bit of a unique take on an exercise that can benefit you in different ways. For those interested in more conditioning and endurance based workouts, kettlebells are perfect for that. The handle and overall feel allows for better movements when it comes to higher intensity work. Barbells will be helpful for those looking to lift heavier weight for you can pack on the pounds and allow your whole body to work from just one piece of equipment. Dumbbells fit nicely right in the middle. For those wanting to work on isolation exercises or compound movements, dumbbells are great, easy to grip, and can provide for an amazing workout and serious gains.
How We Choose
When it comes to choosing the best dumbbells, we look at a number of factors because you deserve to have only the best on the list to choose from. We look at the company and the brand representing the product. It is important that a company works for you and all your intended goals and is reputable in their mission to produce only the best workout equipment around. We then look at the quality and other attributes of a good dumbbell including material, durability, grip, and overall feel. This will ensure quality workouts and optimal effectiveness of the product. Lastly, we look at price because we know these products can get expensive. It is possible to find a great dumbbell while still being at an affordable price.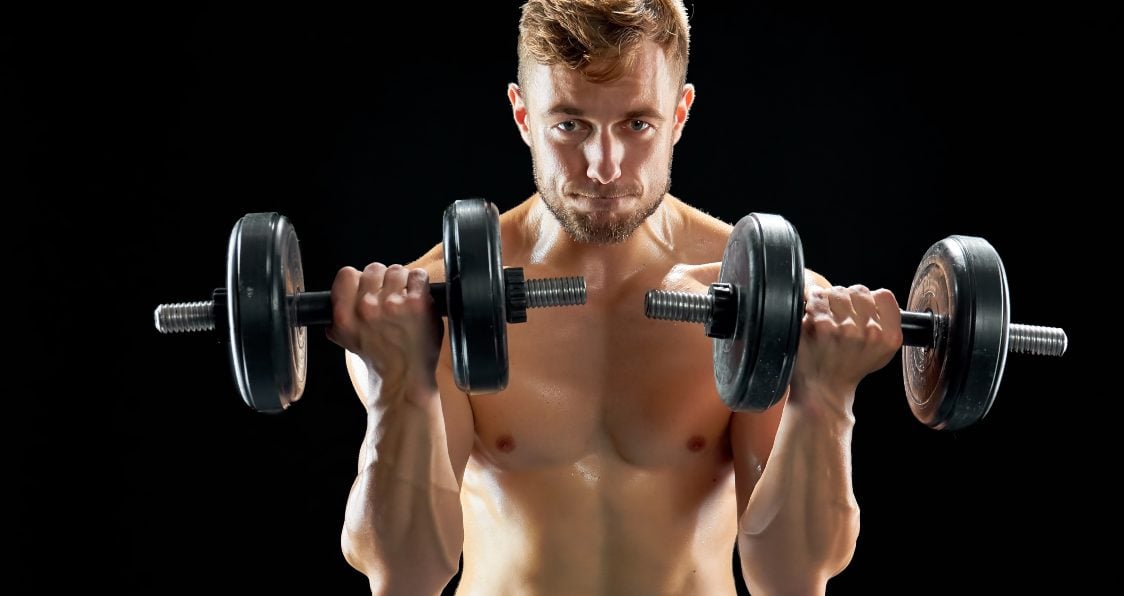 FAQ Section
What is the best dumbbell?
papababe Dumbbells. These dumbbells are perfect for those looking for great workout equipment to build strength, burn fat, and create a winning physique. Made from solid cast iron, these offer great strength and total durability.
How much weight should I look to get out of my dumbbells?
This all depends on how much you lift. For most exercises, it is safe to say that around 50-60 lbs. is a good cut off point. While you may need heavier weight on certain exercises, the solution would be to toss on more reps to still see great gains.
Can I get a good workout with just dumbbells?
Absolutely. Having a well-rounded workout is obviously the goal, but with dumbbells, you can work isolation exercises and compound exercises to really give yourself the best chance at the growth you want most.
Wrap Up
Dumbbells are the perfect workout tool for those at-home training needs. Able to save space, provide for great workouts, and really give you the gains you want most, dumbbells can really give you everything you want and more to give you the best growth possible. Finding the right set of dumbbells may seem daunting, especially with a market so saturated in fitness equipment, but it is possible. Check out our list above of the best dumbbells and find the right pair for you today.