Bodybuilder Samson Dauda Takes Viewers Through Full Grocery List Ahead Of 2022 Olympia

Samson Dauda shows off what a bodybuilder gets at the grocery store during contest prep.
Samson Dauda continues to prepare for the 2022 Olympia after earning qualification during the 2021 Prague Pro. Dauda has been active on stage in 2022 and that will continue come December. Recently, Dauda took viewers on a shopping trip to see what he gets at the grocery store.
Dauda turned heads during the Prague Pro and also finished second during the Arnold Classic UK. In 2022, he finished fourth during the Arnold Classic and Boston Pro. He has been active on social media and this includes sharing huge physique updates, including one where he weighed 324 pounds.
As we creep closer to the 2022 Olympia, Dauda is making sure that he comes in at his absolute best.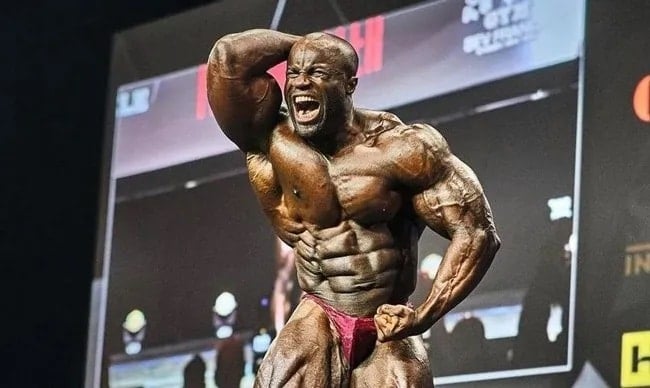 Samson Dauda Shares Shopping Trip Ahead Of Olympia
Samson Dauda recently shared a video to his YouTube page during a trip to the grocery store. The overall diet plan of a bodybuilder can change depending on the stage of prep they are in. For Dauda, he wants to take in a large amount of calories and this means keeping his diet clean is important.
Dauda began his trip by getting a bulk of chicken, steak, and rice. These are major protein requirements for bodybuilders. Dauda added 11 pounds of skinless chicken breast and a huge amount of steak, the amount was not specified. He continued to add protein with 15 dozen eggs. Dauda then moved onto the seafood aisle where he added an entire salmon.
During a meal plan, athletes will also try to divert cravings and unwanted foods. For Dauda, this consists of meatballs, which he explained were one of his favorite offseason foods. To add a bit of a snack to the day, Dauda added honey-roasted cashews to his cart.
Along with his diet plan, Samson Dauda continues to get some major workouts in. He is looking to make improvements to his physique before taking the stage against some of the other top competitors in the world come December.