Bodybuilding Legend Dorian Yates Trains Fitness Star Mike Thurston During Chest And Biceps Workout

Dorian Yates took Mike Thurston through an insane bodybuilding workout.
Bodybuilding legend Dorian Yates is known as one of the best bodybuilders of all-time. Many consider his back as the biggest spectacle the sport has ever seen. With his combination of size and conditioning, Yates won six consecutive Olympia titles. He remains extremely active in the gym and recently trained fitness star Mike Thurston through a chest and biceps workout.
The 60-year-old Yates has remained shredded during his retirement years. During his time off stage, he has focused on his health in many ways. Thurston decided to take on a workout with Yates in his recent video.
Thurston is a fitness star that has built a massive following on social media. He met with the bodybuilding legend at the M13 gym in Marbella, Spain for a huge workout.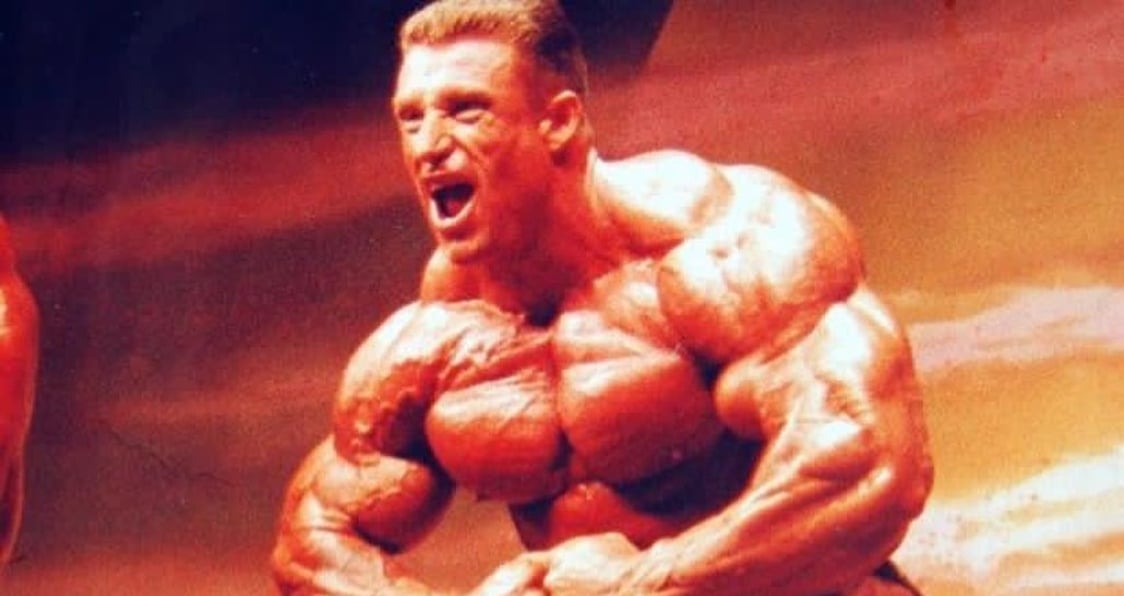 Dorian Yates Shares Wisdom During Chest And Biceps Workout
Dorian Yates walked Mike Thurston through this workout and provided his wisdom during each exercise.
Decline Bench Press
Seated Chest Press Machine
Neutral Grip Incline Dumbbell Fly
Seated Dumbbell Concentration Curl
Standing EZ Bar Curl
Decline Bench Press
Dorian Yates began this workout with a medium-grip decline bench press. He explained that he likes to start chest days with a compound exercise. It depends on which day it is when Yates is determining which exercise to use first. Yates instructs Thurston to pre-exhaust certain body parts.
"SOME BODY PARTS LIKE BACK AND LEGS, I DO PRE EXHAUST…I PREFER TO START WITH A COMPOUND EXERCISE ON CHEST," YATES SAID.
While performing the exercise, Yates makes sure to work his chest over his triceps. This can be done by keeping his hands in a medium grip. This grip also makes sure that the range of motion is not limited with the grip being too far apart.
Seated Chest Press Machine
The next exercise on the list is the seated chest press machine. Yates focuses on the negative movements, as these provide results. Also, he continues to explain how different muscles react differently depending on the rest period.
"MY PECS WERE NOT MY STRONGEST BODY PART. MY CHEST WAS NOT MY STRONGEST BODY PART. SO I USED SUPER INTENSITY TECHNIQUES, WHEREAS MY BACK I WOULD JUST GO TO FAILURE. IT'S NOT SOMETHING TO BE OVERUSED BECAUSE IT'S VERY STRESSFUL ON YOUR NERVOUS SYSTEM."
Neutral Grip Incline Dumbbell Fly
Mike Thurston moved onto neutral grip incline dumbbell flys as his next exercise. Again, Yates wants to make sure that all of the work is being placed on the chest and not the triceps.
"YOU DON'T WANT TO LOCK OUT AT THE TOP. THAT'S MORE TRICEPS. WE'RE TRYING TO KEEP THE TENSION ON THE PECS. YOU'LL NOTICE, YOU'LL GET TO A CERTAIN POINT AND THE RESISTANCE IS FALLING OFF."
Seated Dumbbell Concentration Curl
Dorian Yates moves onto an exercise that is meant to isolate the bicep. He was extremely conditioned during his time on stage, despite his massive size. Yates is a believer in pushing some exercise uses to failure in order to exhaust the muscle. He remains interested in aesthetics in bodybuilding, as well.
Standing EZ Bar Curl
The final exercise of the day was a standing EZ bar curl. Dorian Yates has been able to remain fit in retirement and does it by maintaining his routine.
"I DO THE WEIGHT TRAINING TO MAINTAIN MY MUSCLE MASS NOT TO TRY TO INCREASE IT, JUST TO MAINTAIN IT AT A CERTAIN LEVEL. THEN, I DO SOME HIGH INTENSITY CARDIO INTERVALS ON THE BIKE. SOMETHING LIKE THAT. YOGO OR PILATES FOR STRETCHING OR MOVEMENT."
Mike Thurston ends the video by asking Dorian Yates to train legs with him next. In retirement, Yates has continued his passion for fitness and health. He explains how he used steroids for over 12 years and believes that bodybuilders now are pushing too many compounds.
Yates is no longer taking steroids but he has tried some other recreational drugs. He is beginning to see life in a different way but has maintained his love for the gym.