Brendan Schaub Weighs In On Liver King: 'His Approach To Life Is Legitimate, Let Him Do His Thing'

Brendan Schaub decided to discuss whether he believes Liver King is natural.
Brian Johnson, better known as Liver King, has become a sensation on social media because of his unorthodox eating habits and ripped physique. This has sparked plenty of conversation on whether or not he is natural. Recently, Brendan Schaub decided to weigh in on the discussion. The former UFC fighter believes that people need to mind their own business.
Liver King has preached the nine ancestral ways of life. He has spoke highly of the benefits of raw meats, including liver, brain, testicles, and a carnivore diet. Liver King can consume up to a pound of raw meat a day. Along with his diet, Liver King goes through some intense workouts that are not seen everyday.
Put this all together and Johnson has turned into a shredded star on social media. Schaub joined Fighter and The Kid where the conversation turned to Liver King.
Brendan Schaub: "There's Some Freaks Out There…It's Your Genetic Framework."
Brendan Schaub was asked if he believes Liver King has a natural body or if he is using steroids. This is a claim that Johnson himself has denied but many have disagreed with his own claim.
Schaub gave an answer but believes there is more to it.
"HE SAYS HE'S NATURAL? WHAT'S HE LOOK LIKE, I'LL TELL YOU RIGHT NOW. BRING HIM UP. OH NO! HEY… HEY EVERYBODY STOP. THIS IS THE GUY THAT ONLY EATS LIVER?"

"IN MY EXPERIENCE, GUN TO THE HEAD, WOULD I SAY HE'S ON SOMETHING? PROBABLY. I WILL SAY THOUGH MAN, THERE'S SOME FREAKS OUT THERE. I'VE BEEN AROUND THEM. IT'S JUST TOUGH. IT'S YOUR GENETIC FRAMEWORK."
Joe Rogan seemed confident that Liver King was on some sort of substance when he discussed the topic. He did not believe that his body was natural when looking at it in photos. As the conversation grew, Schaub continued to emphasize that he was not sure of his current status.
"PEOPLE ARE HATING ON THIS GUY. PEOPLE ARE SAYING THEY ARE HATING ON HIM FOR BEING ALL NATURAL. I DON'T SEE SOCIAL MEDIA. IS HE ON THERE CONSTANTLY SAYING ALL NATTY, ALL NATTY?"

"I ALSO THINK IT'S WEID HOW PEOPLE DECIDE WHAT TO PUT UP WITH AS FAR AS CANCEL CULTURE. I'LL GO THROUGH PEOPLE ON PODCASTS OR COMEDY SHOWS, WHERE THEY ALLOW THIS GUY OR THAT GUY."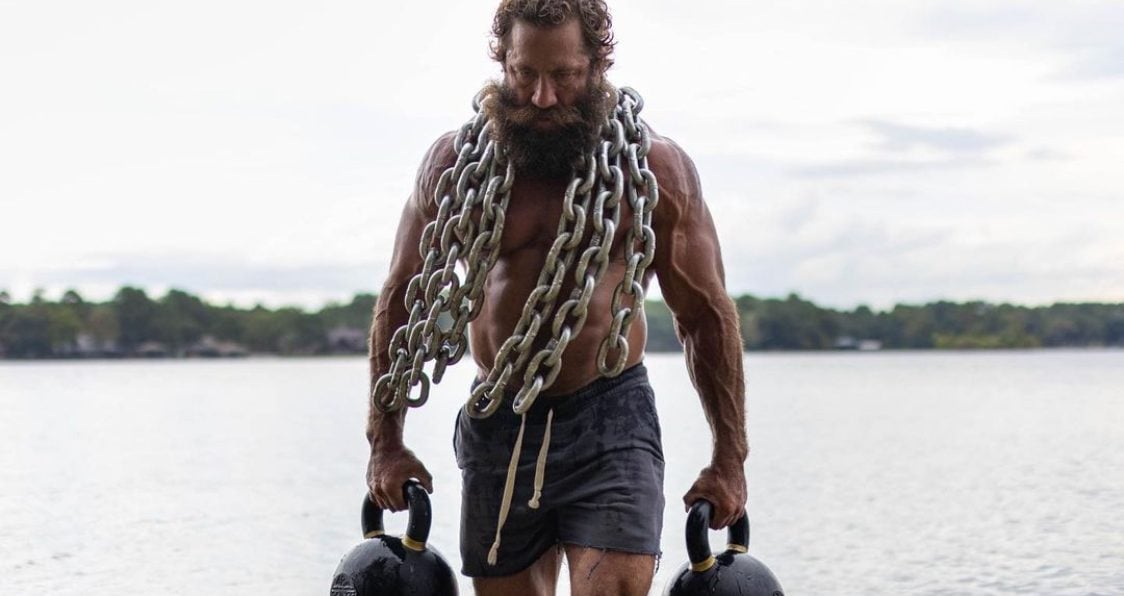 Is Liver King Hiding His All-Natural Status?
The issue of steroids is being discussed a bit more recently after some deaths have hit the bodybuilding world hard. Despite these discussions, active members in the sport, and other stars, have remained quiet on the topic.
Both The Rock and Mike O'Hearn, for example, do not discuss their status and that is their right to do so. Brendan Schaub used an example of seeing Ronnie Coleman speak 20 years ago claiming that he was natural.
"HE MIGHT FEEL LIKE HE'S IN A POSITION WHERE HE CAN'T TALK ABOUT IT OPENLY. LOOK, RONNIE COLEMAN WAS ON JAY LENO 20 YEARS AGO TALKING ABOUT 'I'M ALL NATURAL, I'M NOT ON STEROIDS.' IT'S TABOO FOR CERTAIN THINGS."

"LET HIM DO THIS THING. WHO CARES? YEAH, MAYBE HE DOESN'T HAVE A PRESCRIPTION PLAN BUT HOW IS THIS DIFFERENT FROM SOME GIRL GETTING A FAKE ASS AND STARTING AN ONLYFANS?"
At the end of the day, Brendan Schaub believes there could be some jealousy surrounding Liver King and his body type. This is because the average person might not have it in them to live this life.
"PEOPLE HATE IT. WHY DO THEY HATE IT? IT'S TRIGGERING BECAUSE THEY CAN'T LIVE THAT LIFE."