Breon Ansley Deep Into Training For Tampa Pro With Huge Arm Day

Breon Ansley is looking to win the Tampa Pro and gain momentum into the Olympia.
Breon Ansley is a former two-time Classic Physique Olympia champion. He is currently preparing to compete in the Tampa Pro and put together a massive arm day during one of his training sessions.
Ansley has finished third in each of the last two Olympia competitions. In 2019, he saw his two-year win streak come to an end at the hands of Chris Bumstead. Most recently, Ansley finished fourth at the Arnold Classic and was unhappy with his performance.
Classic Physique is a division that is gaining popularity and seeing many elite athletes emerge. Ansley is still at the top of his game and wants to show it off on the biggest stage once again. Before this happens, Ansley is looking to win the Tampa Pro and is full or dedication and motivation.
"I'M TRYING TO WIN THIS DAMN THING THIS YEAR."
Below, you can find a full guide through Breon Ansley's arm workout, along with some tips from the champion himself.
Breon Ansley Arm Day
Machine Triceps Extensions
Rope Pressdown
Overhead Rope Extension
Dip Machine
Dumbbell Kickback
Alternate Dumbbell Curl
EZ-Bar Curl
Hammer Curl
Breon Ansley took down this workout at the legendary Gold's Gym in Venice, CA. Ansley begins the video by explaining how it is important to focus on recovery and training smart.
"BE CAREFUL, GUYS, WITH EVERYTHING. BE CAREFUL BUT BE SMART. TRAIN SMART. TRAIN HARD BUT TRAIN THAT ASS TO BE SMART SO YOU CAN COME IN HERE THE NEXT DAY AND THE NEXT DAY AND THE NEXT DAY AND THE NEXT DAY. WHO CARES ABOUT WHAT YOU'RE DOING FOR THAT ONE DAMN DAY IF IT PUTS YOU OUT?"
Triceps Training
Breon Ansley begins his workout with machine tricep extensions, the first of five consecutive triceps exercises. This is the way Ansley likes to train arms so you have a constant pump in the muscles targeted.
"I LIKE TO TRAIN TRICEPS ALL IN ONE AND THEN START WITH THE BICEPS. I DON'T LIKE TO MIX UP, SOME GUYS LIKE TO DO BICEPS TRICEPS, BICEPS TRICEPS AND ALTERNATE LIKE THAT. I DON'T LIKE TO DO THAT BECAUSE YOU LOSE THE BLOOD FLOW, YOU LOSE THE PUMP, IN BETWEEN MOVING ONE MUSCLE GROUP TO THE NEXT."
Ansley moves onto rope pressdowns. He reveals that he likes to use the rope because it allows for his hands to turn out for a better contraction of the muscle. Ansley continued with the rope but with a different movement during overhead tricep extensions.
The final exercise of the tricep portion of the workout was weighted dips. Ansley performed sets with a 35, 40, and 50-pound dumbbell.
"ANYTIME YOU'RE DOING ANY TRICEP EXERCISE THE IS EXTENDED OVER THE HEAD, YOU ARE WORKING ON THE SHORT HEAD OF THE TRICEP. THAT IS THE SHORTHAND IN HERE. ANYTIME YOU ARE PRESSING SOMETHING DOWN, DOING A PRESSING MOVEMENT LIKE WE DID HERE, YOU ARE WORKING ON THE LONG HEAD.

"REMEMBER, THE TRICEP HAS THREE HEADS. THE SHORT HEAD, LONG HEAD, AND MEDIUM HEAD. THAT IS GOING TO MAKE THE ARM LOOK THAT MUCH BIGGER…MAKE SURE YOU HAVE GREAT TRI'S."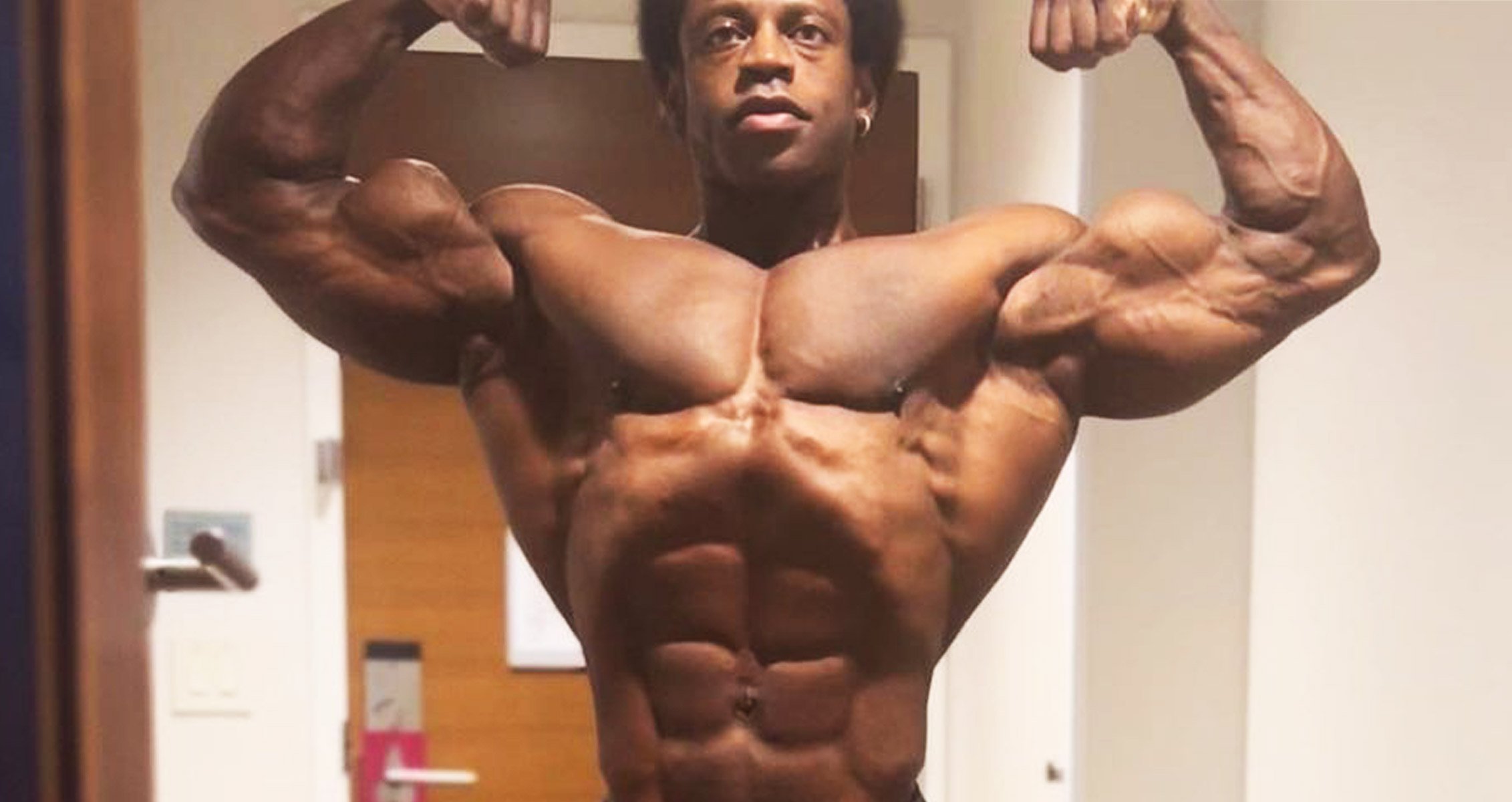 Biceps Training
Breon Ansley focused on triceps over the course of this workout and believes that they are sometimes overlooked. To begin his short stint on biceps, Ansley hit alternating dumbbell curls. He began with 45-pound weights and eventually moved up to 50 pounds.
"I WAS TWISTING IT AT THE TOP TO GET A LITTLE BIT MORE OF YOUR INNER BI HERE. NOW, WE'RE GOING TO GO OUTER HALF…WE'RE GOING TO HIT THIS MORE WITH AN OUTER GRIP. OBVIOUSLY, WE'RE GOING TO HIT THE BRACHIALIS HERE, FOR THE THICKNESS OF THE BICEP, WITH THE HAMMER CURLS, WHICH IS ONE OF MY FAVORITE EXERCISES."
Ansley continued with EZ-bar curls and hammer curls to finish out the workout. He admitted to favoring hammer curls because he is strongest while performing them. Ansley began with 55-pound dumbbells before making his way up to 75 pounds.
""IF YOU ISOLATE IT, KEEP THE SHOULDERS BACK AND DOWN, AND KEEPING THIS HINGE HERE, KIND OF LIKE A DRAG CURL…SAME PRINCIPLES."
Breon Ansley is focused on the Tampa Pro and gaining momentum heading into December. After falling back a bit in recent competitions, Ansley looks determined to show that he is still one of the best competitors in Classic Physique.