Chris Bumstead Focuses On Volume In New Full Chest Workout
Chris Bumstead hit a new chest workout where he is focused on volume.
Chris Bumstead gifted himself with a new truck followed by a chest workout on Sunday. He pulled up to Revive Gym in Stuart, FL in his new 1978 Ford F-150 Lariat edition and got a massive pump using volume on chest day.
Bumstead is the reining three-time Classic Physique Olympia champion. By the looks of his recent workouts, Bumstead looks primed a ready for his fourth consecutive victory. The Classic Physique division is one that continues to grow and there are more elite competitors than there has been in recent years.
Chris Bumstead struggled with COVID at the beginning of the year and he saw a big weight loss because of it. He is now in the bulking phase of his training and has put the weight back on in muscle. It is because of massive workouts like the one he recently shared on his YouTube page.
Check out the full workout below:
Chris Bumstead Chest Workout
Incline Dumbbell Press – 2 sets of 12
Incline Machine Press – 3 sets of 12
Cable Flyes – 3 sets of 12, drop set on final set
Pec Deck Machine – Sets and Reps unknown
Incline Dumbbell Press and Incline Machine Press
Chris Bumstead began with different stretches to loosen up his shoulder, which has been bothering him recently. He will mention over the course of the video how stretching his shoulder has allowed him to eliminate pain and get a better pump in his chest.
Bumstead begins the workout with two sets of incline dumbbell presses. He is able to get the 140-pound dumbbells up and will work to get back to 150 pounds.
"ONLY TWO WORKING SETS WITH THE 140'S, HOPING TO GET BACK TO THE 150'S SOON. THEN I COME OVER HERE AND DO THREE SETS. HOPEFULLY A LITTLE MORE VOLUME BUT REALLY FOCUSING ON CONTROLLING, KEEPING THE WEIGHT ON MY PEC, WHICH IS EASIER ON A MACHINE."
Bumstead then moves onto the incline machine press, where he speaks on the importance of machines for bodybuilders.
"FINALLY, I CAN PUSH HEAVY WITHOUT HURTING MY SHOULDERS ON DUMBBELLS SO I'M STILL FOCUSING ON GETTING SOME STABILITY. THAT RAW, HARD PUSH BECAUSE THERE'S STILL NO REPLACEMENT FOR FREE WEIGHTS AT 100% BUT MACHINES ARE STILL THE GOAT FOR BODYBUILDERS. AVOIDING INJURIES, HYPERTROPHY, ALL THAT GOOD SHIT."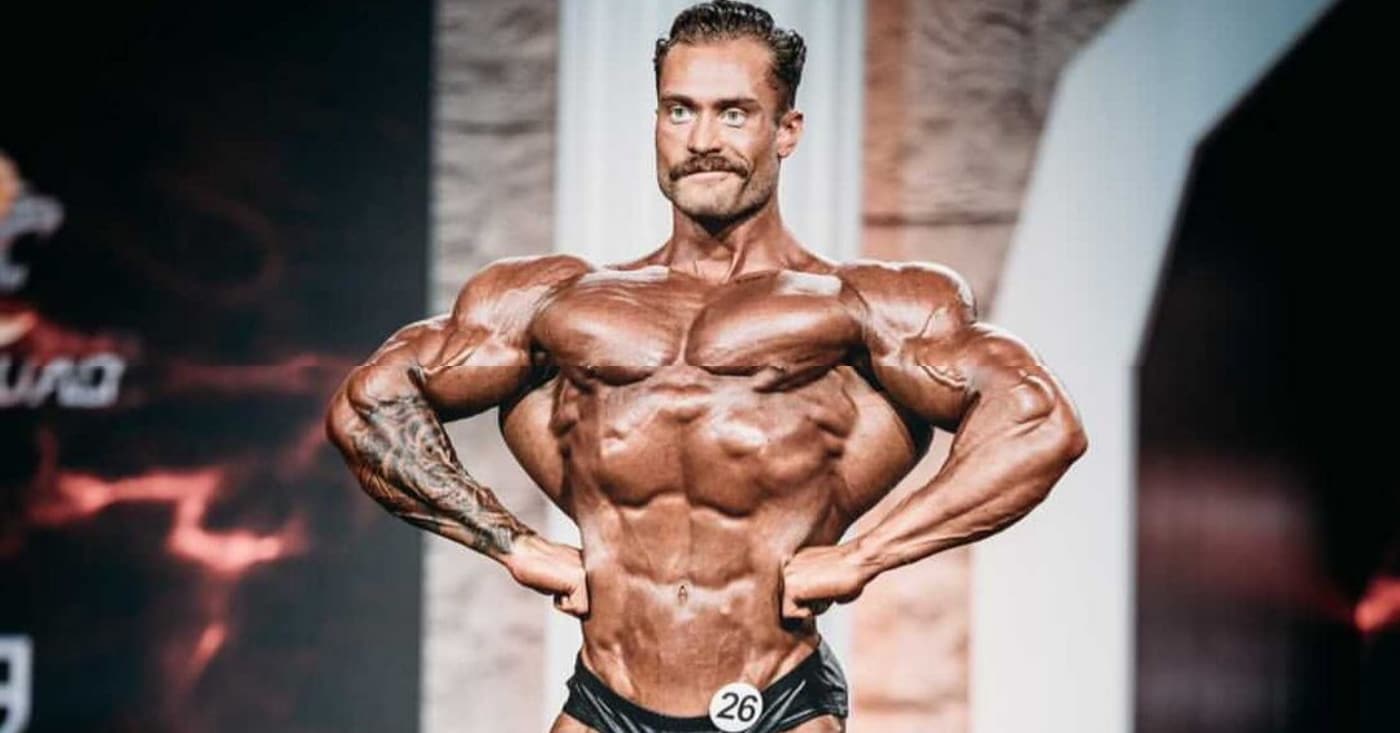 Cable Press
Chris Bumstead continues his chest day with sets on the cable press machine. He performs this exercise sitting down. Bumstead explains how this machine is a cross between a fly and a chest press but it does not hurt his shoulder so he has been hitting it more often.
"I'VE BEEN DOING THIS A LOT LATELY. AGAIN, MY SHOULDER HURTS SO ANYTHING FLAT PRESS, PUTS TOO MUCH PRESSURE ON MY SHOULDER BUT THE CABLES PULLING OUT AND BACK AND I CAN POSITION MY BODY A LITTLE DIFFERENTLY. I'M GETTING A COMBO OF LIKE A FLAT PRESS WITH A FLY ON THIS MACHINE AND LITTLE TO NO PAIN IN THE SHOULDER."
Machine Press and Pec Deck Machine
The final sets come on the machine press and pec deck machine. Bumstead claims that someone hopped on his machine before he was able to get there so he banged out a couple sets on the machine press.
Bumstead ends his workout with multiple sets on the pec deck machine. He did not specify the amount at the time. Once the workout is over, Bumstead reflects on how he is able to get better work in by stretching his shoulder.
"IT'S AMAZING HOW LOOSENING UP MY SHOULDER A BIT, I'VE BEEN GETTING SOME MASSAGES, NEEDLES, BETTER WARMUPS, STRETCHING, HAS REALLY ALLOWED ME TO HAVE LESS PAIN IN MY SHOULDER AND ENGAGE MY CHEST EVEN FURTHER."