Fitness Stars Buff Dudes Built The "World's Deadliest Dumbbells" For An Insane Workout

Brothers Hudson and Brandon White decided to take dumbbells to new heights.
An injury in the gym is not uncommon. There are many times where lifters will push their bodies to the limit in order to achieve a new goal. Injuries happen when the lifter has poor form, weight might fall off the bar, or even the body giving out for no particular reason. Well, brothers Hudson and Brandon White recently added a new risk to their dumbbell workouts.
The White brothers, known as Buff Dudes on YouTube, shared a new video displaying the "world's deadliest dumbbells." This is not the first time that they played around with different ideas involving dumbbells.
In 2020, Brandon and Hudson made their own dumbbells out of concrete so they could workout during the pandemic. With gyms being closed, they added to their home gym since their equipment was not enough at the time. Two years later, Buff Dudes followed up their first dumbbell experiment with another interesting one.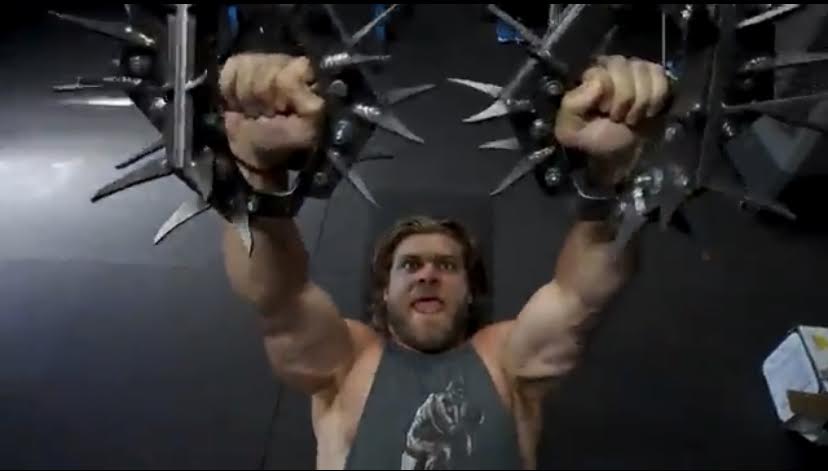 What Are The "World's Deadliest Dumbbells"?
During the video, Buff Dudes is joined by a blacksmith named Matthew who helps construct the dumbbells. He welds together a metal frame that can be held from within. Once the structure is together, Matthew adds 32 metal spikes to the outside. This creates an object that looks like something out of an action-packed video game.
"IT'S A TERRIBLE IDEA. I LOVE IT. A BUILD IS A FAILURE IF YOU CAN'T KILL SOMEONE WITH IT," MATTHEW SAID.
Before the duo hits the gym, they tested out the spikes by swinging at beer cans thrown to them. The spikes punctured the beer cans and exploded on impact. Once they were done testing it out, Brandon and Hudson hit the gym.
Buff Dudes performed different exercises with the dumbbells such as chest presses, shoulder presses, upright rows, and bicep curls. Once the workout was finished, they joked about "taking it too far" while wearing suits that look like they did not have any skin left.
"NEVER HAVE I BEEN SO EXCITED AND SO NERVOUS TO WORKOUT," HUDSON SAID.