Hunter Labrada Reacts to Taking 7th at the 2022 Olympia

Hunter Labrada has some thoughts on his placing at this past year's Olympia.
Hunter Labrada reacts to taking seventh place at the 2022 Olympia in a recent social media post. Labrada took to instagram to share his thoughts on what occurred at the biggest bodybuilding show of the year.
The 2022 Olympia was perhaps one of the more shocking competitions in recent memory.  Many were convinced that reigning two-time champion Mamdouh 'Big Ramy' Elssbiay would repeat at the 2022 show. So was quite the shocker when Hadi Choopan emerged victorious. But Big Ramy wasn't the only competitors to drop a few places at the event. Top bodybuilder Hunter Labrada, who placed fourth at the 2021 Olympia would find himself in seventh place in 2022.
It was just yesterday when Hunter Labrada was considered a front runner to challenge for the 2022 Mr. Olympia title. After all he had a finished in fourth place at the 2021 show and showcase a truly impressive physique with the potential to one day challenge for the championship. Many had thought that 2022 would be the year that Labrada would crack the top three. Instead of the talented bodybuilder would find himself dropping three places to seventh this year. Suffice it to say Labrada was less than pleased.
Prejudging Reaction
Before the finals, Hunter Labrada appear to be supremely confident and prepared to take a high placing at the show.
LAST NIGHTS INDIVIDUAL PRESENTATION! LOOKING FORWARD TO COMING BACK DRYER/SHARPER TONIGHT AND SEEING IF THERE'S ANY CHANCES TO MOVE UP!

IF YOU MISSED PREJUDGING, YOU CAN STILL ORDER THE PPV FOR FINALS AND SUPPORT ALL OF YOUR FAVORITE ATHLETES!

TO EVERYONE THAT'S SUPPORTED ME THROUGH THIS PREP, THANK YOU FROM THE DEEP DOWN BOTTOM OF MY HEART. IT WASN'T THE RESULT I TRAINED FOR, BUT IT'S THE BEST I'VE EVER LOOKED ON STAGE AND I KNOW I'LL LOOK BETTER TONIGHT. I ALSO ALREADY HAVE A BONFIRE LIT UNDER MY ASS FOR THIS YEARS IMPROVEMENT SEASON.

DEFINITELY WILL POST A VIDEO WITH MY THOUGHTS ABOUT THIS YEARS OLYMPIA ONCE THE DUST SETTLES, BUT FOR NOW IT'S TIME TO STAY LOCKED IN AND BRING IT TO FINALS!
Reacting to Seventh
However, what would end up happening is Hunter Labrada taking seventh place. While he was fairly quiet, after the immediate happenings of the show, it will appear that Labrada is breaking his silence. In a story on Instagram, Labrada appears to have a lot to say about his performance at the 2022 Olympia.
Y'ALL WANT REAL, HERE'S REAL:

I JUST WALKED IN MY GYM FOR THE FIRST TIME SINCE LEAVING HOME FOR THE OLYMPIA TO CHANGE THIS TIMER AND MOVE SOME BLOOD AROUND. I ABSOLUTELY LOST IT WHEN I THOUGHT ABOUT THE LAST YEAR'S WORTH OF WORK THAT HAD BEEN PUT IN THIS ROOM ONLY TO FALL SHORT IN MY EXPECTATIONS IN A MAJOR WAY. AND AT THE END OF THE DAY THOSE ARE THE ONLY SET OF EXPECTATIONS THAT MATTER TO ME.

THIS PAST WEEKEND I WAS THE BEST I'VE EVER BEEN. BUT THERE ARE SOME THINGS THAT NEED [FIXING], AND SOME THINGS THAT NEED FIGURED OUT , AND THAT'S WHAT THIS YEAR WILL BE ABOUT.

LOOKING FORWARD TO REALLY UNPACKING ALL THIS TO Y'ALL AFTER THE HOLIDAYS. BUT FOR NOW IT'S TIME FOR ME TO BE WITH MY FAMILY AND TO TAKE CARE OF MYSELF.

I WILL BE BACK AND BETTER THAN EVER IN 2023. AND Y'ALL WILL SEE ME TWICE! ONCE TO QUALIFY AND ONCE IN 316 DAYS.

#WINTHEDAY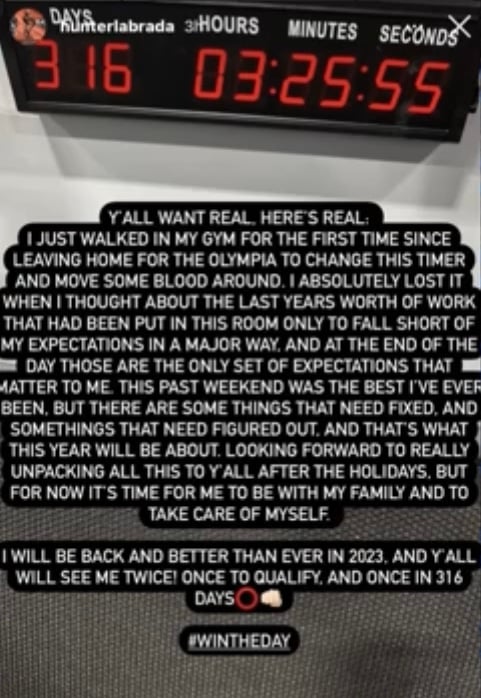 While he certainly sounds disappointed, Hunter Labrada appears to be in a good place. From the sounds of things he appears to have a plan of action and is ready to pursue his goal of redeeming himself at the 2023 Olympia.
Do you think Hunter Labrada should have placed higher?