Joey Swoll Undergoes Potential Life Saving Surgery for Heart Issue

Joey Swoll suffered a recent health scare regarding his heart.
It appears that Joey Swoll recently underwent life-saving surgery for a genetic irregularity with his heart. The popular bodybuilding and fitness figure reported the news on social media as well as confirming that the survey was a success.
Without our health, we pretty much have nothing. Having all the wealth, the accolades, the fame, and the glory means absolutely nothing without good health. After his own health scare recently, Joey Swoll understands that notion quite well. The popular bodybuilding figure was recently suffering pain in his chest, a symptom of what he'd come to learn, was a genetic irregularity to his heart. Rather than ignore the issue, Joey decided that it was time to see a cardiologist about his chest pain.
And it was a good thing that he did.
In a recent post to his social media, Joey Swoll revealed that the genetic irregularity to his heart required surgery. This surgery was in fact a life saving one.
A Life Saving Surgery
In his recent Instagram post Joey expressed how thankful that he took the issue seriously.
"HAD A LITTLE SCARE LAST WEEK FINDING OUT I HAVE SOME GENETIC IRREGULARITIES WITH MY HEART. I'VE BEEN FEELING A LITTLE OFF AND HAVING SOME PAIN NOW FOR AWHILE AND FINALLY DECIDED TO STOP BEING A "TOUGH GUY" AND GO GET IT CHECKED OUT. THANK GOD I DID. I ENDED UP IN SURGERY FOR A FEW HOURS TO FIX THE ISSUE AND WAS BACK ON MY FEET THAT NIGHT, I FEEL GREAT, AND MY HEART IS STRONG AS EVER.

"I'M VERY THANKFUL TO MY CARDIOLOGIST AND THE AMAZING NURSES AND STAFF AT HOAG HOSPITAL THAT TOOK SUCH GREAT CARE OF ME. MY MESSAGE TO ALL OF YOU IS PLEASE, IF YOU'RE FEELING OFF, IF YOU'RE HAVING SOME PAIN, GO GET CHECKED OUT! IT MIGHT BE NOTHING AND YOU'RE FINE, OR IT MIGHT SAVE YOUR LIFE LIKE IT DID MINE. IT'S ALWAYS BETTER TO BE SAFE THAN SORRY."
Support From the Bodybuilding Community
It's great to see that Joey Swoll is doing well and other figures in the bodybuilding and fitness community sent their support and well wishes. Among those who sent their support and words of encouragement were former Olympia champions Phil Heath, Jay Cutler, and Dexter Jackson, as well as Milos Sarcev and Joseph Baena.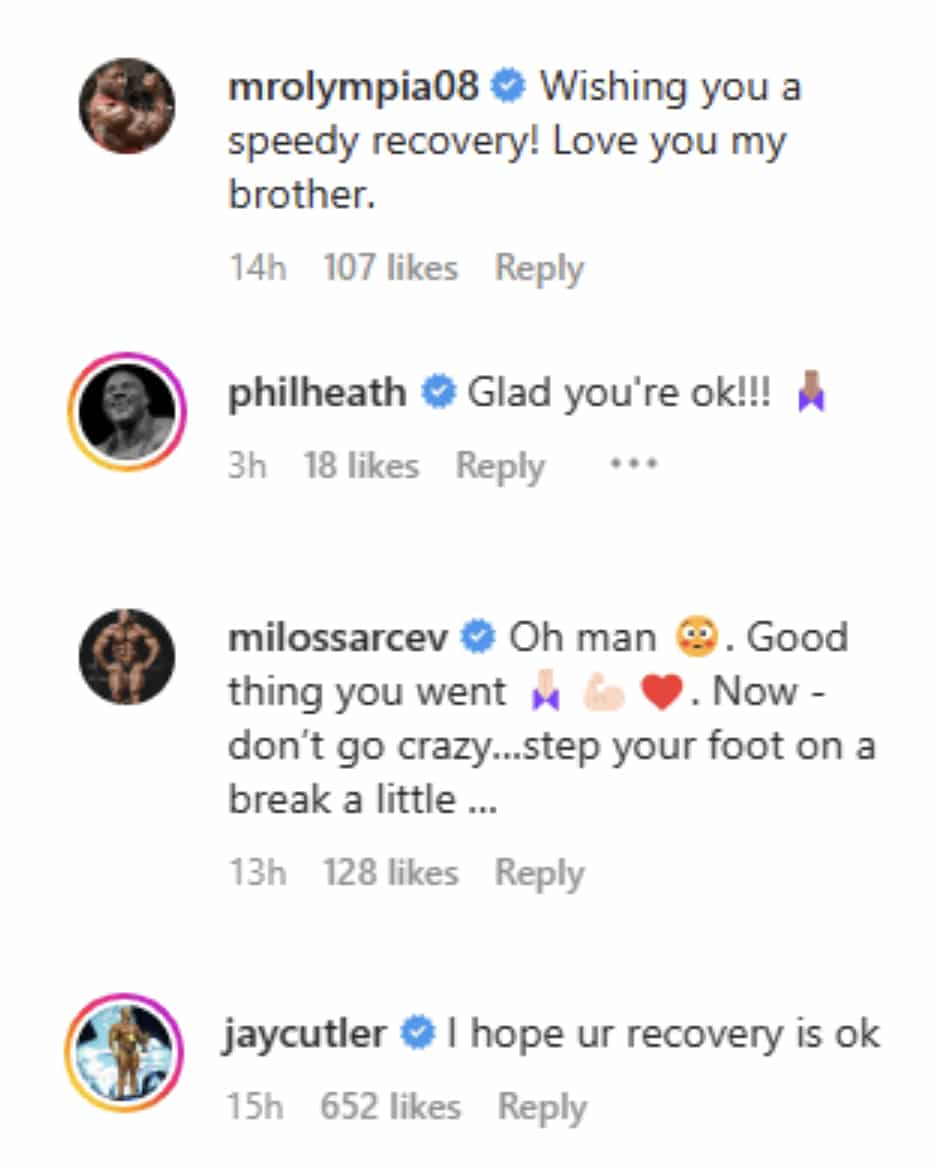 The Generation Iron team wishes Joey Swoll a full and speedy recovery. In an age when so many bodybuilders have passed untimely, it's great to see that Joey was able to prevent something terrible from occurring by seeking medical help.