NFL Superstar J.J. Watt Avoiding "Dad Bod" This Offseason, Shows Off Shredded Physique In Recent Update

J.J. Watt is one of the best defensive players of this generation and continues to look like a bodybuilder.
J.J. Watt burst onto the scene in the NFL as a rookie in 2011. He is currently preparing for his 12th season and the 33-year-old is working as hard as ever. That is clear in a recent physique update that Watt shared on Twitter where he stated "Dad bod loading…"
By the looks of it, Watt is working to remain healthy for a full 17 games this season. He is looking shredded in his home gym during a recent update.
DAD BOD LOADING… PIC.TWITTER.COM/DUZ9NZEKHL

— JJ WATT (@JJWATT) JUNE 25, 2022
J.J. Watt wasted no time dominating the NFL. In just his second season, Watt led the league with 20.5 sacks and was named Defensive Player of the Year. This would be the first of three awards for the defensive end. Over his first five years in the league, Watt played in and started all 16 games while leading the league in sacks twice.
In 2016, Watt ran into some injury problems. He would play just eight games over the next two years for the Houston Texans. This set up an incredible comeback season in 2018. Watt totaled 16 sacks and led the league forcing seven fumbles that year. This was the final of five AP First-Team and Pro Bowl selections for Watt.
The future Hall-of-Famer is currently with the Arizona Cardinals preparing for his second season out West. By the looks of his physique, Watt is ready to take the field come September.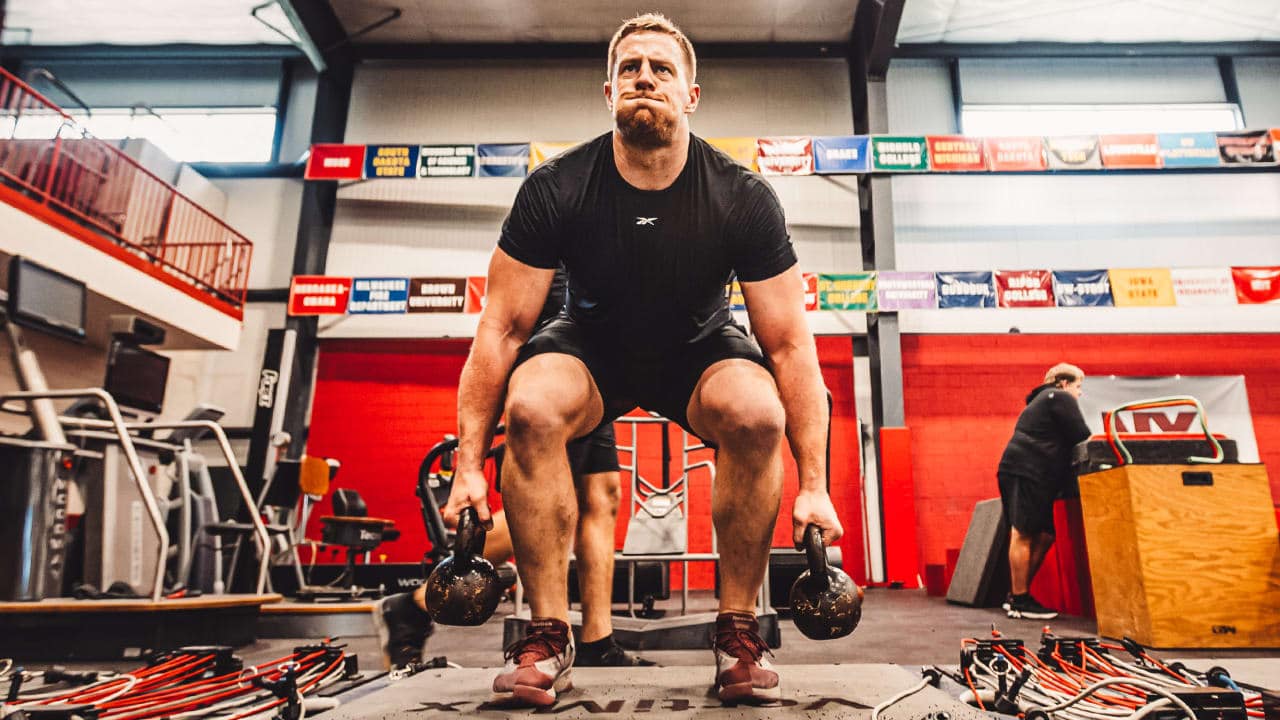 J.J. Watt Workout Plan
Over the course of his career, J.J. Watt has followed a strict diet and workout routine. He often splits his days up into upper body and lower-body workouts. Watt has always worked in explosive power and agility to stay quick on the field.
Upper-Body Workout
Shoulder Pack Roll – 2 sets of 10
Incline Bench Press – 4 sets of 10, 5, 3, 5
Dumbbell Floor Press – 8 sets of 8
Fat-Bar Pull-Up – 3 sets of 10
Chest-Supported T-Bar Row – 3 sets of 12, superset Straight-Arm Lat Pulldown – 3 sets of 10
TRX Arm Curl – 3 sets of 12, superset Band External Rotation – 3 sets of 10
Tempo Run – 8 sets, 40 yards at 75% max speed
Lower-Body Workout
This is where J.J. Watt likes to keep his lower body in game shape. He has totaled 102 total sacks and will get that number even higher if he can stay healthy. The explosive power allows Watt's legs to remain in shape for quick movements.
Safety Bar Box Squats – 6 sets of 3
Safety Bar Chaos Reverse Lunges – 3 sets of 6-8 per leg
Partner-Assisted Dynamic Kettlebell Swings – 4 sets of 10-12
Litvinov Prowler Sprints – 6 sets of 20 yards