Ronnie Coleman Led Larry Wheels Through Leg Day Workout To Test His Strength

Larry Wheels continues to test his strength on TRT and was led by one of the best to ever do it.
Larry Wheels has built an incredible reputation as one of the strongest and most popular powerlifters in the world. Recently, he provided another update while he tested his strength during a leg day, led by eight-time Olympia champion Ronnie Coleman.
During his career, Coleman was regarded as one of the strongest bodybuilders in the world. He opened eyes with huge leg workouts that included massive numbers on squat and deadlift. It is only right that he took Wheels through this workout to see how high the weight could get.
Wheels has dabbled in bodybuilding over the course of his career, along with powerlifting and arm wrestling. Recently, he has been taking testosterone replacement therapy and stopped his usual cycles of PEDs.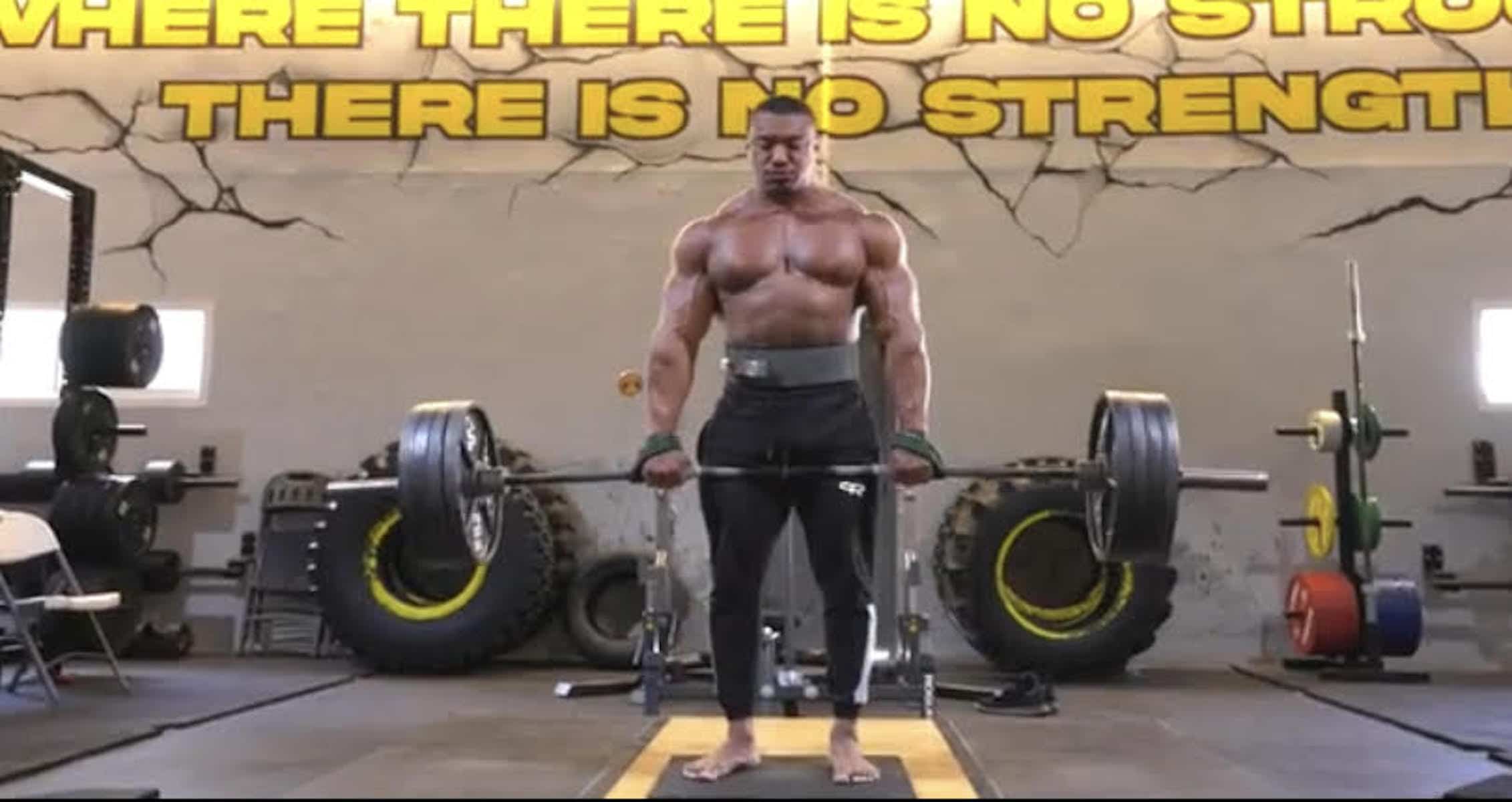 Larry Wheels Attacks Leg Day With Ronnie Coleman
Larry Wheels has noticed a difference in his physique since he stopped using steroids. He remains shredded and his strength has not gone anywhere. Wheels has provided many updates over the course of the last few months.
Ronnie Coleman began the workout by explaining how he used to prepare his legs for the weight that it was about to endure. The two planned to get up to 800 pounds.
"LIGHT WEIGHT. YEAH BUDDY. YOU GOT THIS. AIN'T NOTHIN' BUT A PEANUT," COLEMAN SAID.

"WE'LL TRY FOR 800 TODAY. YEAH I USED TO DO A LOT OF STRETCHING, LIKE THIRTY MINUTES. WELL SEE, I WAS DOING FULL SPLITS ON STAGE AT 300 POUNDS. YOU GOTTA DO A WHOLE LOT OF STRETCHING."
The workout continued with sets on the plate-loaded leg press machine. Larry Wheels began with 1,000 pounds for eight reps. Next, he loaded up 1,180 pounds. Wheels proceeded to ask Coleman about his splits during training.
"I REMEMBER WHEN I DID 800-POUND SQUAT, I WENT STRAIGHT TO THE LEG PRESS AFTER THAT. SAME DAY. I DID 2,300 ON THAT. I WAS MAD BECAUSE I DIDN'T GET THAT 800 FOR MORE REPS. I HAD ABOUT SIX IN ME," COLEMAN SHARED.
Over the course of the workout, Larry Wheels hit 14 reps of 600 pounds on the squat bar. He was able to hit some PRs during this workout and it was only right that he did it with Coleman in attendance.