Terrence Ruffin is Out of the 2023 Arnold Classic

Terrence Ruffin is not competing at the 2023 Arnold Classic.
Top Classic Physique competitor Terrence Ruffin recently announced that he would not be competing in the 2023 Arnold Classic. Feeling that he still has some room for improvement, Ruffin has decided to sit on the sidelines while he makes the necessary adjustments to his physique.
Facing reality can be a tough pill to swallow, but absolutely necessary if you are seeking continued growth. For an athlete that is doubly true.  If one seeks to become the best at what they do, particularly in an athletic endeavor, then they have to be brutally honest with themselves. No one ever made improvements by ignoring their weaknesses and hoping for the best. It takes a certain level of self deprecation to be able to achieve top honors in whatever athletic endeavor one chooses.
In regards to bodybuilding that could be even more true when you consider that every part of an athletes physique is being criticized and analyzed. Knowing this to be the case top, Classic Physique competitor, Terence Ruffin has decided to take things back to the drawing board.
Having just recently taken third at the 2022 Olympia in the Classic Physique category, Terrence Ruffin has clearly hit a wall. Having placed second at the 2020 and 2021 shows, Ruffin, dropping one placing could be a sign that he has some improvements to make. Many suspected that Ruffin would compete at the 2023 Arnold classic in Ohio this March. But it appears that is not the case.
No Arnold Classic
Terence Ruffin confirmed that he would not be participating at the 2023 Arnold Classic. The reason he gave for not competing? That he has some improvements to make to his physique.
BACK AT THE LIONS DEN. WEIGHTS UP ABOUT 4ISH POUNDS SINCE SHOW DAY. 180LBS

PS: THROUGH IN SOME JOJO POSES FOR THE ANIME WEBS OUT THERE LOL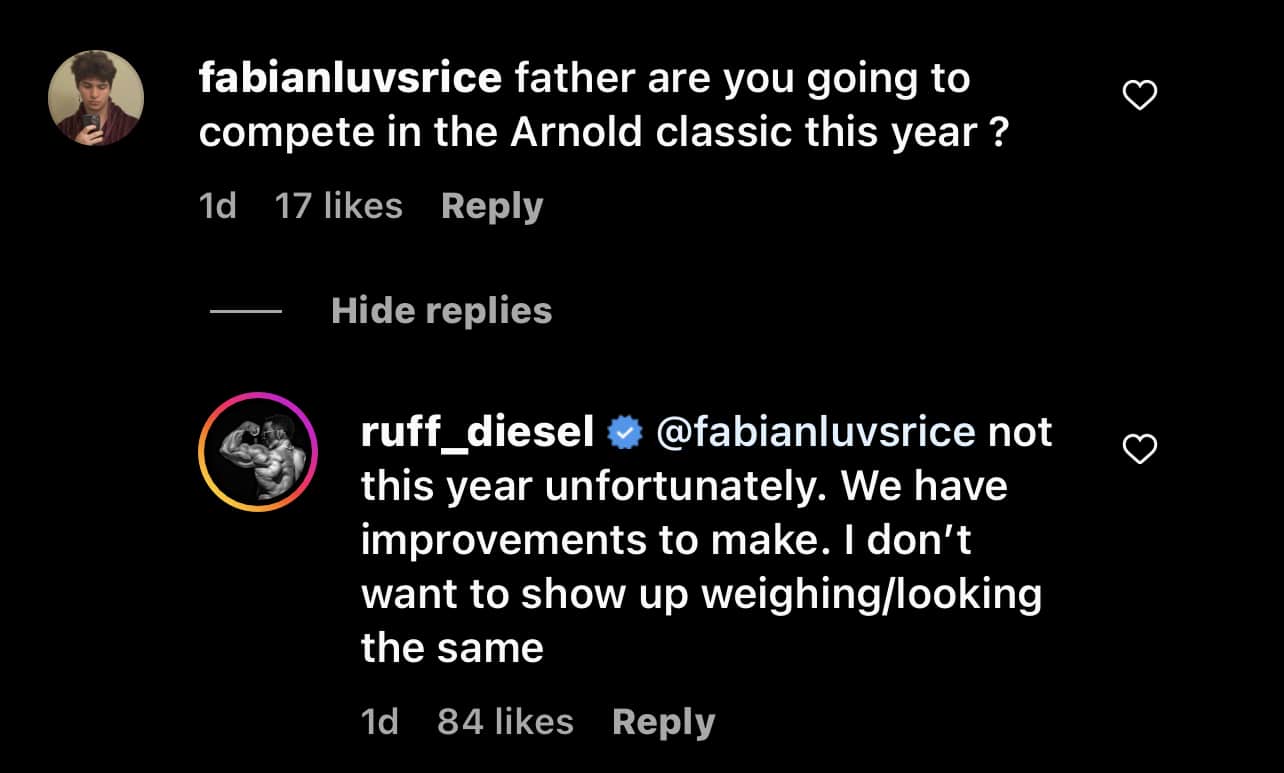 Always aiming to be the best version of himself, Terence Ruffin, isn't the type of athlete to lie to himself. He is choosing to acknowledge that he must improve if he hopes to one day stand atop the Classic Physique division. In order to do that Ruffin will have to make the necessary changes in his preparation. He'll need to gain more size while still maintaining his chiseled conditioning. That will take some time and definitely not enough time before the 2023 Arnold Classic.
What do you think of Terrence Ruffin skipping the 2023 Arnold Classic?