WATCH: Rob Kearney Takes On CrossFitters Mal O'Brien And Jake Marconi In Deadlift Challenge

Mat Fraser hosted an intense battle of strength between Rob Kearney and some elite CrossFit athletes.
The dynamics of strongman and CrossFit are extremely different and it is always interesting to see athletes go up against each other. In this instance, Rob Kearney took on CrossFitters Mal O'Brien and Jake Marconi.
Kearney has been busy competing in strongman fighting for some of the biggest prizes in the sport. O'Brien is coming off a year where she was named the 2021 CrossFit Rookie of the Year while Marconi continues to be an elite athlete. This contest was shown on Fraser's YouTube page as the three athletes took on deadlifts for reps.
It is clear that Kearney has the largest deadlift of the group given his stance as a strongman. He deadlifted the day before this contest and completed four reps of 805 pounds. Completing many reps for time is not usually what he does during strongman contests.
"IT DEPENDS ON THE CONTEST. WE HAVE BOTH A DEADLIFT LADDER WORKING UP TO 880 AND WE'LL ALSO HAVE A DEADLIFT FOR REPS AROUND 750. SO TYPICALLY, EIGHT REPS IS THE BIGGEST I'VE DONE," KEARNEY EXPLAINED.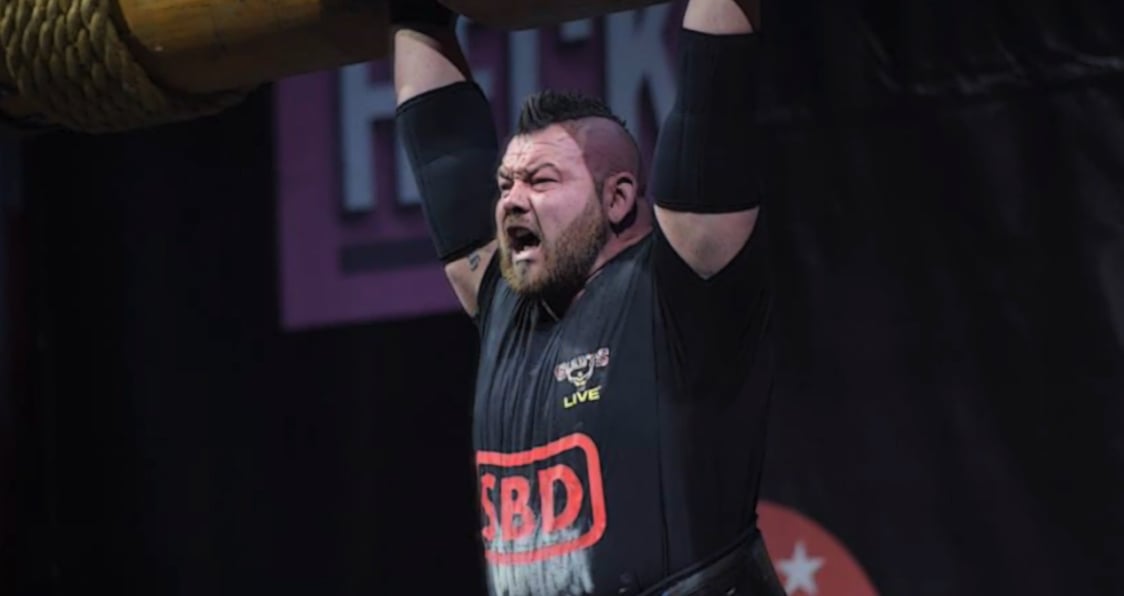 Deadlift Challenge 
All athletes were tasked with completing the deadlifts and reloading their bars to the appropriate weight for the next lift.
385 pounds for 2 reps
365 pounds for 4 reps
335 pounds for 6 reps
315 pounds for 8 reps
255 pounds for 10 reps
195 pounds for 15 reps
"ROB DEADLIFTED 805 FOR FOUR REPS YESTERDAY. ROB CLEARLY HAS ASTRONOMICALLY HIGH DEADLIFT NUMBERS SO IT'S KIND OF LIKE A FUN EXPERIMENT. JAKE HAS A 515 DEADLIFT. ROB HAS A, BEST EVER WAS 970. SO CLOSE TO DOUBLE BUT I WATCHED HIM DO 805 FOR FOUR REPS YESTERDAY AND LIKE, IT WAS CARDIO," FRASER SAID.

"SO LET'S SEE HOW HE DOES WITH WAY, WAY LOWER PERCENTAGE FOR HIM BUT IT'S SOMETHING THAT IS COMPLETELY OUT OF HIS ELEMENT."
Rob Kearney made the first bars look easy given the weight that was on the bar. Fraser said that these lifts were "about 38 percent" of what Kearney can put up. This was referring to Kearney's max lift of 970 pounds.
As the contest went on, Mal O'Brien finished the workout ahead of both Kearney and Marconi. Once the workout was over, Kearney admitted to liking this method of deadlifting.
"I ACTUALLY LIKE DOING TOUCH-AND-GO. LIKE TIME UNDER TENSION WISE. I FEEL LIKE IT'S A LOT MORE EFFECTIVE. I ALWAYS GET MORE FRIED DOING DEAD-STOP REPS."
O'Brien took home the victory in this workout ahead of her scheduled appearance at the 2022 CrossFit Games in Madison, WI from Aug. 3-7. Rob Kearney will continue to train in order to compete against some of the other elite competitors in the world.